In a box! Yep thats right! So we had this for supper a couple of nights ago, it was one of those nights that I feel so lazy to cook and that I just wanted something fast to prepare for my family. I always have something like this, like a TV dinner in our fridge, just in case if I get sick and cant able to cook, so that my family have something to eat. Nobody knows here how to cook except me. So I have to do what a mother needs to do. Be Prepared always! lol

But anyhow..My hubby loves the tacos of Taco Bell, even though it gives him tummy cramps after eating one. lol. In spite that, I still bought it, and make my own taco bell recipe. =)

Below is what Ive prepared.


I just chopped fresh tomatoes, onions, green and red bell peppers. I used Velveeta cheese in my tacos, instead of cheddar cheese. And cooked ground beef thats been sprinkled with salt and peppers while cooking it, to make it tasty. 🙂
Below is our Taco. I didnt used the taco sauce for hubby's taco, cause it might make him feel sick. But I used it in my taco and it was good! I like it! Too bad for hubby, he cant enjoy it. hehehe.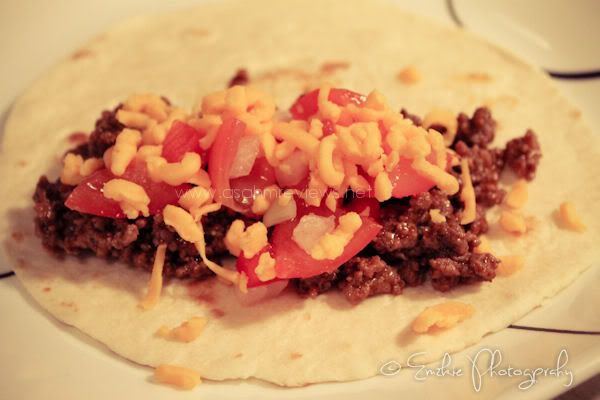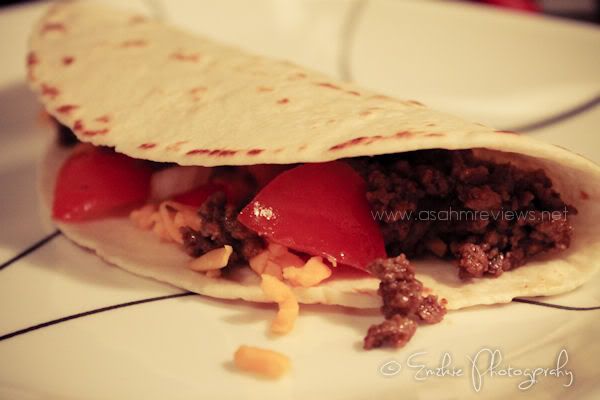 This taco was so heavy in my tummy, that it filled me up right away.