My little boy's birthday is fast approaching. He will be 5 this coming April! And soon, he will be in Kindergarten this coming school year of 2014-2015. I am so excited for my little guy, at the same time sad because I will gonna miss him. Thinking about this made me feel a bit emotional, I am not ready yet to expose him to the World! Well, I can't keep him forever, but he will always be my baby. Therefore, I am planning to give him a  big birthday party this year. I am not sure where to held it yet, either here in the house or in a fun place. I am thinking here in the house, because it's more comfortable, cheaper, and there's no time limit. Unlike those fun places that last for 2 hours only.
Anyway, I asked him what kind of party he wants. He said he want a Dinosaur theme party on his birthday. This kido sure knows what he wants and he surely loves Dinosaurs! He even said one time that he want to be a Paleontologist when he grows up, cause he wants to study about Dinosaurs that once roamed here. LOL! He probably got that from the TV. Anyway, I got an opportunity to do a review about party kits which is just perfect, and when the little one saw the products that I am going to review, he was so ecstatic! I surprised him with this Dinosaur Party kit below. This is supposed to be a giveaway gifts that is good for 1 guest. It includes, a Dinosaur Figure, a Dinosaur Party Lunch Box, 1 Dinosaur Party Pencil, 1 Dinosaur Party Sticker,1 Dinosaur Tattoo Book, and a Solid Colored Notepads. Isn't this so cool? It sure is a perfect party souvenir gifts. I was surprised that they sent us two lunch box instead which is just perfect, cause one each for my boys. I sure love this set. My boys love it most! The design is so beautiful and colorful that any boy would surely love it!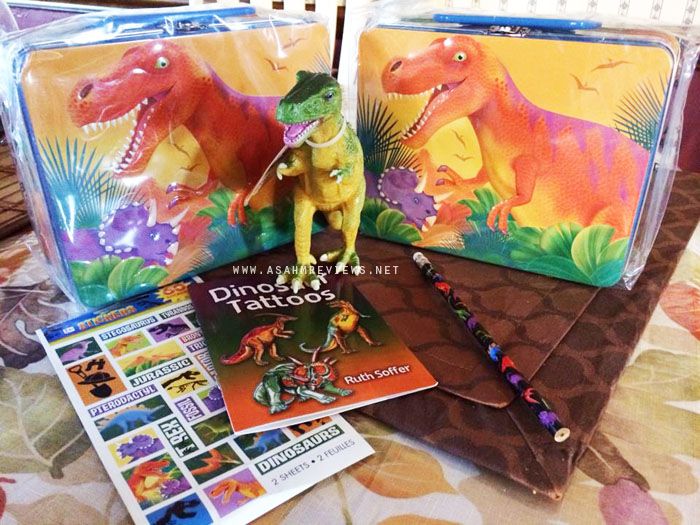 If your child is fond of dinosaurs and planning to have a Dinosaur Party in the future, well, you better check this Dinosaur Party Kit from BirthdayInABox.com. They have everything that you need from fork to paper cups! You don't have to browse some other website for the gifts and other party materials because it's All-In-One Party kit! I sure am very happy when I found this website, I don't have to worry about my littlest birthday party. He will definitely get a Dinosaur Theme party this year. Thinking about it makes me feel so excited. I sure can't wait!