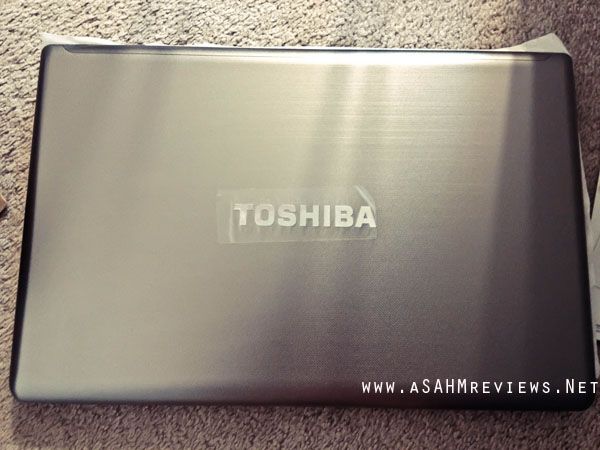 This is my new baby Toshiba Satellite P870. I've mentioned in my other Blog, how my old Toshiba died on me. I used hubby's Laptop for a while until the new one arrived on our doorstep. I ordered my laptop online at ToshibaDirect.com . Hubby and I had been Toshiba users for 4 years now, and was very satisfied with their customer service. But this laptop arrived with an assembly issues. The bottom was not properly screwed, it was a little bit open on where the hard drives is. I was a bit disappointed when I saw it, and complained at Toshiba about it. I shoud'nt be surprised since it was shipped from China. What surprised me is that it was  shipped from China. I thought Toshiba is a Japan brand, the customer service told me that they assembled it in China. Hmm… Good thing it was packed nicely and hubby was able to fix the issue. I was planning to return it cause it might have some defects for not assembled properly, but I decided to wait for a few months if it crashes on me. Anyway, its 1 year warranty so I got a few months to test it, and I have already reported the issues at Toshiba, so if I return it in a few months, they can just look up their records about it.
Well, so far, its not acting up. It's doing what its suppose to do. The loading is very fast, and surfing in the internet has never been an issue unless if its the ISP issues. I believe this is a pretty good laptop. I really like its design, and color, so sleek and pretty looking. The outports are pretty accessible for somebody who uses USB, and SD slot all the time. Its DVD drive is located at the left side which is very convenient for me. The only thing that you need to get used to is the volume control which is on the keyboard. My previous Toshiba laptop volume control is a round roller on the right side along with the headset input and output slot. So far this new laptop works great for me.
What I like best in ordering a laptop online is that you can customized its specs, unlike in a local store, you cant customized it. I customized mine to the level that I wanted, base on my usage and need. So here are the specs of this Laptop.
17.3 inch Display (

for larger viewing

)
Intel® Core™ i7-3610QM Processor 2.30GHz (3.30GHz with Turbo Boost Technology 2.0)(

faster multitasking and better performance

)
Genuine Windows® 7 Home Premium 64-bit
8GB DDR3 1600MHz (4GB + 4GB) (

perfect for AH 😀

)
1TB (5400rpm, Serial ATA) (bigger storage for my photos)
2GB GDDR3 NVIDIA® GeForce® GT 630M with NVIDIA® Optimus™ Technology (

better graphics for gaming and watching movies

)
Glossy Black LED Backlit Tile keyboard,(

for working late at night

)
DVD SuperMulti drive
1600×900 TruBrite® display
harman/kardon® Quad speakers
WiFi® Wireless networking (802.11b/g/n) with Bluetooth® version 4.0
HDMI output
Integrated 2MP (1080P) webcam