Oh my! Its October already? Where did September go? It just went by with just a blink of my eye. I cant even remember what I did last month. Oh well, life must go on I better get back to work. I am happy to be back online now after a month of hiatus, blame it on the hackers out there who have nothing better to do rather bother other people's life. They sure are very frustrating. I hope I wont get disconnected again.
However, I am happy that it is Fall already. I bet you guys are excited of Fall, well so am I. In fact it is my favorite Season of the year. There are so many things to do, and so many things that I want to share to all my readers out there. I bet most of you have decorated your home with Fall decors already. I have my share of fall Decors too, check the photo below.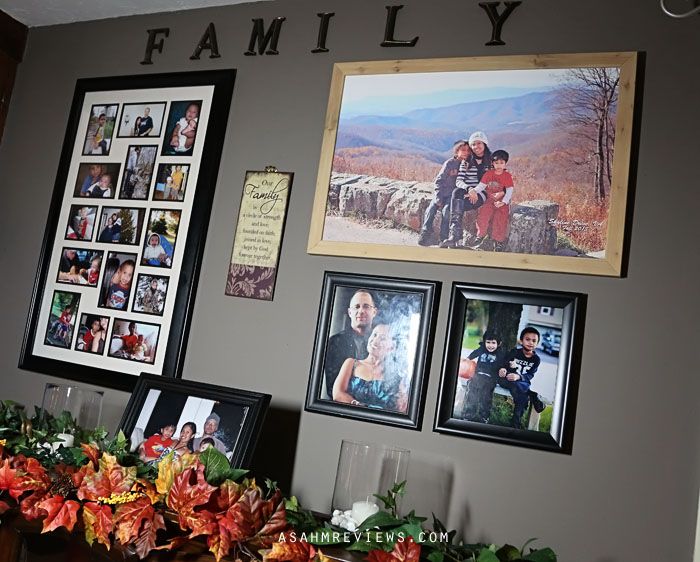 That's our Family wall. I know it need more decorations, I will put some in a bit, maybe more photos or artwork perhaps? =)
Anyway, I have found some pretty decors and wall arts online that I could add up in our living room or in our family wall. It's in Fulcrumgallery.com. They have a great collection of Home Decors that I know you will gonna love as well. When I check their website, I was like "ohmygush! What should I pick? Everything is so beautiful!" This website has everything from Fall to Summer! Love Love Love all the art work and canvases. The artist are just simply amazing! I cant get enough of it. Lucky that I get the chance to work with Fulcrum Gallery by reviewing one of their piece. Since I had a hard time deciding which art work to choose, I decided to upload one of my favorite shots that was taken from one of my favorite places to visit with my family. Yes, they dont only have artwork from different artist, they also have Photos on Canvas where you can upload your photos and they will process it to Art Work. The steps are very simple. You upload it, Choose your Art size, and Finish it with a frame or just simply a canvas. There are a lot of options to choose from such as Print options, Laminate Options, Canvas Options, and Frame Options. I choose Canvas, but instead they gave me the Frame option which was really cool! That's the picture hanging on our Family wall with the Natural Oak Frame. Isn't it beautiful?! That frame canvas was taken last year in Skyline Drive Shenandoah Valley in Virginia where my family and I watch the sun as it set on the horizon, the view was just amazing, its like the earth was on fire! I am glad I got it on Canvas because it was so memorable for me and my family. =)
Anyhow, the canvas that I ordered arrived right away. I was impress with the shipping! Not just the shipping but the customer service as well. My canvas was wrap securely as you can see on the photo below. I was worried that it might get damaged due to handling by the carrier, but they deliver it in my doorstep with care. Outside the box shows a sign of FRAGILE Glass Handle with Care so that the carrier won't dump it on the ground. Of course items like this you need to watch out on when it will arrived, so I was like checking the tracking status all the time to see where the package was and it arrived just what stated in the schedule. =)
By the way, below is the close-up look of my full framed canvas. I tell you its worth every penny if you will order yours now.
I sure am happy with the result of my framed canvas. The details are just amazing! The print is top quality, the framed is made from real wood, great customer service, fast shipping, and to top it all – its affordable. Where would you find something like this? Only in Fulcrum Gallery.
Thank you Fulcrum Gallery for this great opportunity!