Every child yearns for a pet -to be with, to play with, and to cuddle with. And the little one in the house, wants to have one for his own. We have 2 pets in the house and both are short-haired cats, but they are not much fun for him because all they do is sleep all day. The little one prefers a dog that he can take a walk with around the neighborhood. Sad to say we are not ready yet to get a dog since we are renting this house for the time being. Maybe after 2 years when everything is stable, we will get him a dog to take care with.
Because of his yearning to have a pet, I though I would just get him a stuff buddy like the one that  they always advertise on TV. Lucky, Zoobies gave me the opportunity to do a review on one of their products in an exchange of one blanket pet of my choice. I was so ecstatic when they approved me. And it arrived the next day! I was really impressed with their fast shipping. I didnt expect it at all. The little one choose Tama The Tortoise for his new pet, because of its pretty color, and very happy face. And when it arrived on our doorstep, he was so excited to open it. Check the photos below, you can see on his face how happy he was. He would take tama to bed with him, snuggle with him under the blanket, and gave him a kiss goodnight. Isn't that the sweetest? 🙂 I thank Zoobie for this wonderful product. It made my little one so happy, and forget about his yearning to have a real pet of his own.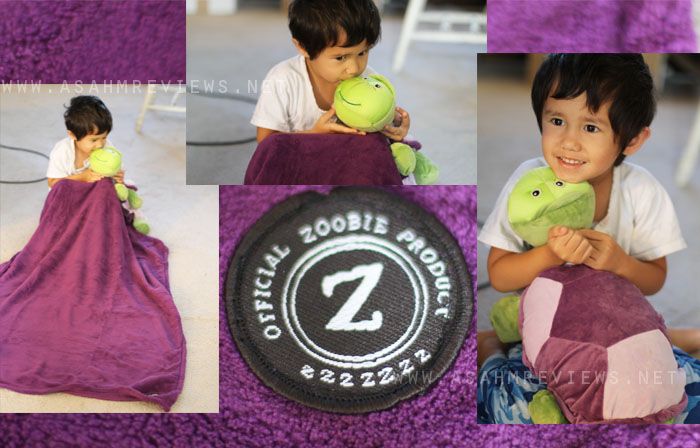 About Tama the Tortoise. He is the cutest ever.
* He is very soft and so cuddly. You will simply love his adorable smile and sweet dimples.
* Every child will surely love Tama, cause he can be a Comfy Pillow and a Super Soft Blanket.

* His head is squashable, and the Design of the Back shell is just so adorable.
* It has 2 zippers, one to open the blanket, and the other one to keep the blanket attached to its body.
* Blanket size is 44″ x 34″
* He is pretty much washable. For washing care, check out its tag or the website for more info.
* And it got a Velcro loop on the neck for easy carrying while traveling, and also on the bottom to make it into animal shape like this photo on the right
To know more about other blanket pets, events, and special offers, check out Zoobies Facebook Fan Page.
And with this coupon code "Parenthood", you can get 20% off on any Zoobie Products. Isn't that a great deal? They have lots of other products in their website that your child will surely adore. But if you want to win one, you can join this Giveaway that I am hosting below. Thanks to Zoobie for sponsoring this Giveaway. This giveaway is open to US Residents only. Thank you!