Ever since my family and I experienced of being on-board the 'The Lost Pearl' of Capt Jack Pirate Ship  in Virginia Beach; and heard about the story of the Fearsome Pirate called Black Beard, my kids became so curious and fascinated about Pirates, and started reading some cool pirate books adventures. My eldest was so into it that he even loves to watch the movie "The Pirates of Caribbean". He actually watched all the 4 series twice!  He never got tired of it, even though some part of the movie were a bit scary for his age. Because of this interest, I decided to get him a Pirate Costume for this year Halloween. Yes I know its a bit early for that, but its better to be early right? So you can choose the best one out there and will not ran out of sizes or out of stock.
T
he costume that I got for my eldest is this Shipwrecked Costume from CostumeSuperCenter.com. This costume includes,
– a red vest,
– gray shirt,
– black bandana,
– vinyl mask,
– black and gray waist sash,
– gauze shoulder drape,
– chest strap with buckle,
– and boot covers.
Sword, earing, and pants are not included. Isn't it cool? My little boy wants to look a bit scary, so I chose this costume for him. And guess what? He likes it, and so excited to wear it on Halloween.
Check out my little buccaneer  below, so ready to trick or treat. Isn't his costume the coolest? Although the Mask is a bit big for him, he can still see and breath fine. The size of this costume is size 8 and my boy is 7 years old. It's just perfect until next year Halloween, if he still wants to wear this one.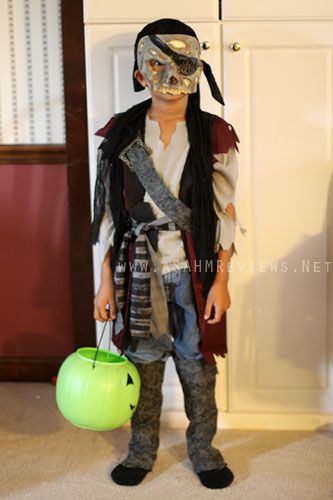 How about you? Does your kid have a costume already? If he/she don't have one yet, check out costumesupercenter.com. They have the coolest costumes online, from infants to adults. They even have plus size costumes, and accessories that goes with it.