Wednesday Whites
We bought this doghouse from the Pet store for our outside kitty Meow Meow, so he will feel warm and cozy during the winter season. We got it last year after we were hit by a snow storm on October. We feel bad about meow meow being outside in the cold, so hubby decided to get him this dog house which is so perfect for him.
This igloo shape doghouse is very sturdy, made of structural foam constructions, that will keep your dog warm during winter season, and cool during summer season. It is very roomy inside, your pet can stretch out and feel comfortable in it. Its also made of a special material called Microban, which is a popular antimicrobial that helps to prevent the growth of bacteria that cause stains, odors, mold and mildew. It also got adjustable top ventilation feature, that provides your dog with a continuous flow of air. Pretty cool aye?! The best thing of this doghouse is.. it is easy to assemble. For the price of $99, I say.. its worth it for your pet. 🙂
And yes! thats how lucky meow meow is! lol! He is a stray cat that just decided to live on our porch. We feed him everyday, and if we're gonna move.. we will definitely take him with us, cause he is such a sweet cat, specially to my little buddies.
Anyhow, here he is.. relaxing in his house. Who say its for dogs only? hehe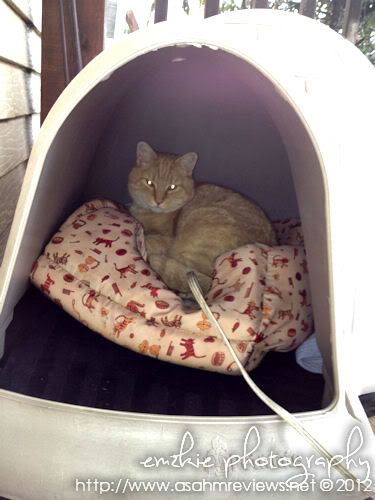 By the way… my husband got him a heating pad too, and he is sitting on it. Very very lucky cat indeed!! 🙂